Fenders
Sample menu:
Old Flames
30 Long Street
Easingwold
York YO61 3HT
Tel/Fax 01347 821188
philiplynas@aol.com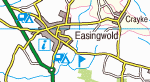 Opening Times:
Thursday to Saturday 10.30 to 4.30
We are happy to open at other times by prior appointment.
Code 1113
Fine quality Georgian Pierced serpentine steel fireplace fender. Good original condition.
See images of the back with original bolts the smaller one to prevent the applied decoration moving from horizontal position.
Length 42" Height 6 1/4" Depth 3"
£595
Scroll down for further images.